Explore Our Featured Salon Towels: Elevate Your Salon Experience with Premium Selections
What Does "Bleach Proof" Mean?
The term "bleach proof" can be misleading as it implies that the towels are completely immune to the effects of bleach. This is not true; instead, these towels have been treated with a special process known as chlorine-resistant dyeing which makes them highly resistant to fading caused by exposure to bleach.
This means that even after repeated washing and bleaching, these towels will remain vibrant and true to their original color.
Bleach-proof salon towels are also incredibly durable due to their 100% ring spun cotton terry construction. Assuring you that these are indeed the best salon towels for your business!
Buy in Bulk & Save Big
For businesses looking for an economical option without sacrificing quality or comfort, buying bleach-proof salon towels in bulk is the way to go! Not only does buying in bulk save you money upfront but it also eliminates the need for constant replenishing over time.

Plus, when purchased from a reputable supplier such as Just Salon Towels USA, customers can rest assured that they're getting top-of-the-line products at unbeatable prices!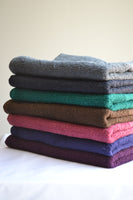 What Makes us Special?
Durability and quality is our number one priority when it comes to colored hand towels for salons. That's why we are proud to offer Eurocale's Bleach Proof towels that are durable, chemical and dye resistant - perfect for your busy salon environment.

Our wholesale bulk bleach proof towels come with a tuck-in selvage on the sides so that they do not unravel or tear easily after multiple washes. We understand the importance of durable towels, and that's why we are confident you will love our bleach guard salon towels!
We offer next day shipping and hassle free returns. Please review our shipping and return policies.
Shop Now!