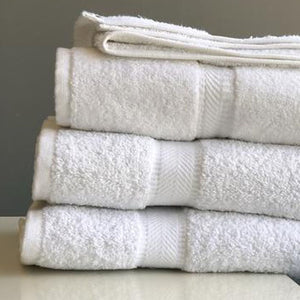 Product: Dobby Border Towels - Face Cloth
Dimensions: 13x13"
Weight: 1.5 lbs
Content: 100% Ring-Spun Cotton
Color: White
Quantity: 25 dozen (300 pieces) per pack
Brand: Eurocale
Dobby Border Face Cloth / Wash Cloth, 13x13", 1.5 lbs weight. White supreme premium quality towels with dobby border, 90% cotton-10% polyester.
Best for use as Manicure towel in beauty salons, spa. Eurocale brand, Ring Spun, Dobby Border, bleached white premium quality towels. Also known as thirsty towels, they are  durable, long lasting and super soft.
Dobby towels are absorbent and machine washable. They do not lose their texture after multiple washes.
Made from plush, fast drying, absorbent cotton and fluffy after wash. 5 star hotel quality, 90/10 blend for better performance.

This towel can be used for manicure in salons, spas, nail bars, beauty salons, tanning salons and massage centers.
Dobby border towels are used in hospitality business, for hotels, institutions, government agencies, motels, resorts, cottages, vacation rentals, short term rentals, Airbnb, cruise linens.

Available for immediate delivery.